Personal approach
Macro-balanced and chef-prepared meals delivered to your door. Simply heat & eat!
Choose a package suitable for your calorie intake needs
We prepare the food, you save time
We deliver a whole days worth of meals every morning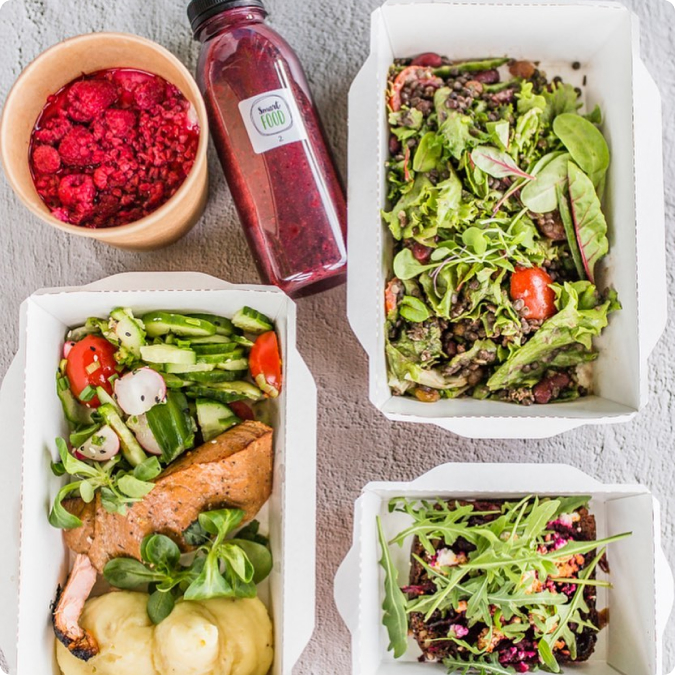 How does SmartFOOD work?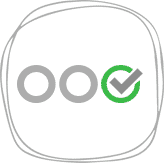 Choose the right size package for you
With our calorie calculator, you can calculate the right amount of calories that meet your daily energy requirement. Each package includes 5 meals per day.
We prepare the food, you save the time
All the dishes are prepared in our professional kitchen. We prepare fresh and delicious foods from the finest ingredients, every single working day.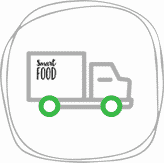 Ready-to-eat meals delivered every day
Choose a suitable time slot for when our courier will deliver the food package to your home or office. We use biodegradable packaging for our meals.

Manage your orders in the customer portal
As a registered user, you can specify break days and any changes in the delivery time and address. You can sign up to this when you place your first order.

Preservatives

Flavor enhancers

White salt

White sugar

Dyes
SmartFOOD helps
To lose weight and help maintain a desired weight
To eat healthy and balanced so that you can get all the daily vitamins, minerals, antioxidants and macronutrients as specifically required by your body
To feel energetic all day and achieve more
To save you precious time when there is not enough time to plan a menu, go to the grocery store, cook or do the dishes
To make your working week more convenient and stress-free
To help you fit into your favorite dress for a special occasion
To encourage a fresh start – we will help you set goals so that purposeful actions can lead to satisfying results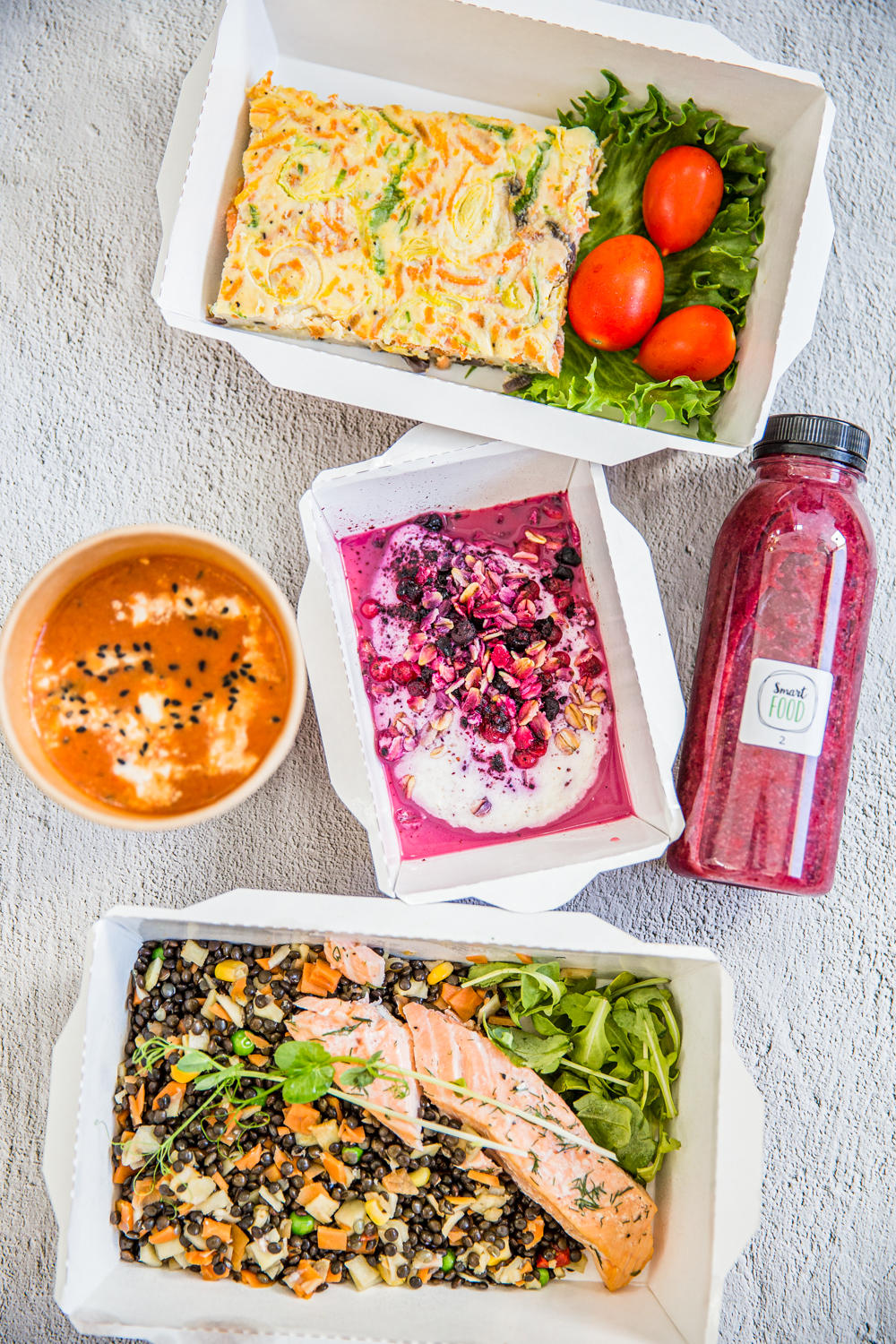 SAMPLE MENU
The SmartFOOD menu is put together in collaboration with a certified chef, a nutritionist and a personal trainer. We want to prove that healthy food is more than vegetables and smoothies. Healthy food can be versatile, exciting and most importantly – totally delicious!
BREAKFAST
8-grain porridge with bran, hemp seeds, strawberries and honey
BRUNCH
Banana-mango-coconut smoothie
LUNCH
Pesto chicken fillet with roasted vegetables and whole grain noodles
SNACK
Carrot sticks with fine herb hummus
DINNER
Lightly salted salmon fillet on a bed of fresh salad with a 5-minute egg and quinoa
NB! You can also choose a meat-free, fish-free or lactose-free package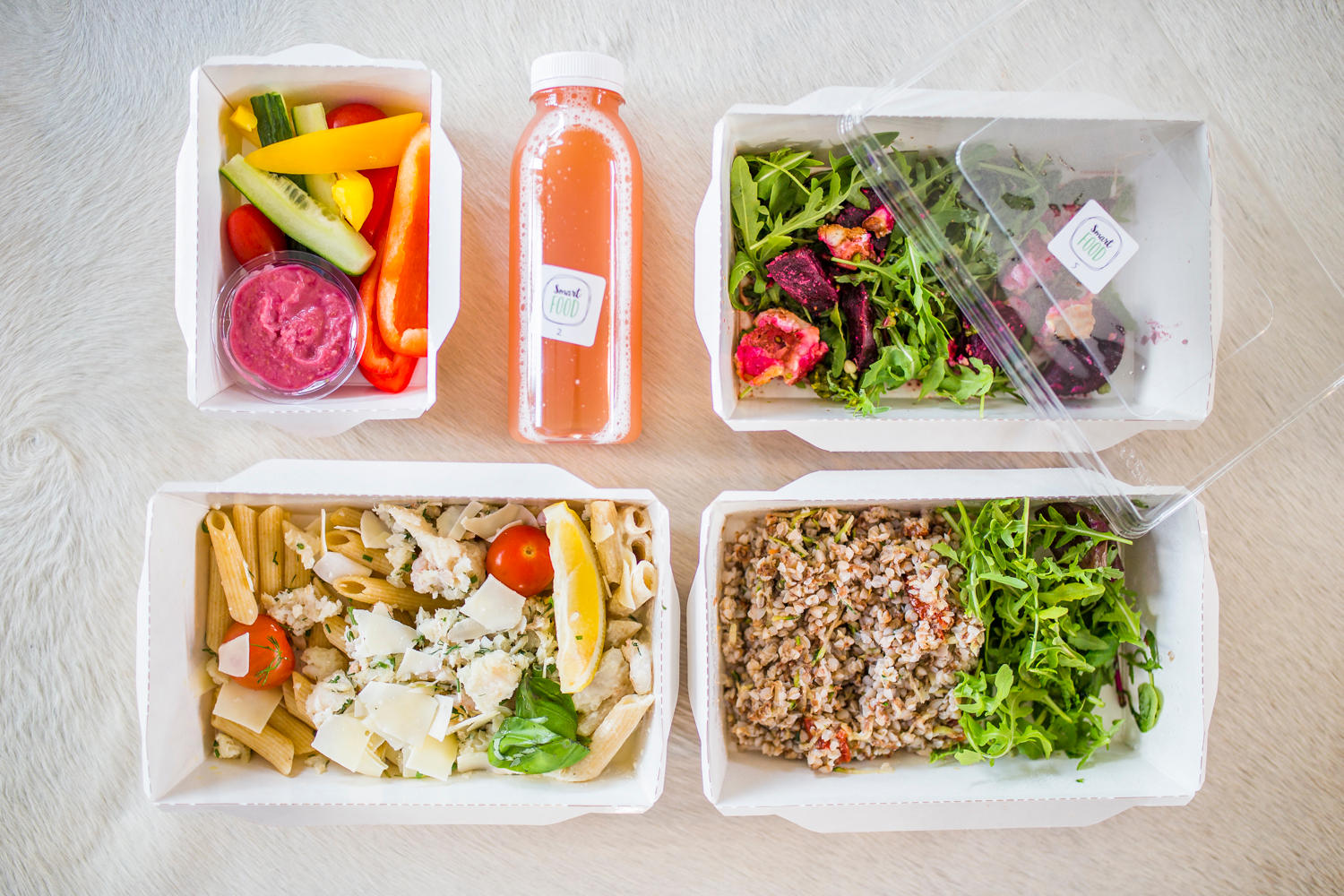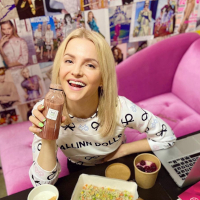 Mari Martin
Creator and designer of Tallinn Dolls
SmartFOOD makes my life easy and helps me devote more time to designing. The foods are super-tasty and healthy and not to mention that my daily meals are brought home to my door every morning.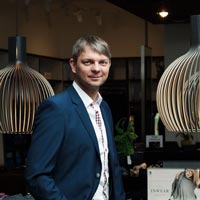 Indrek Sei
Entrepreneur
6 weeks of well-coordinated, strict nutrition – what a ride, you might say! In fact, it has been one of the most educating and effective activities that addressed my overall health and wellbeing.
For me, SmartFOOD's concept of food itself has even more accurate thinking and logic – how, what, when and why I eat something and how those choices help me retain the most energy from the foods I eat.
SmartFOOD, for me, is a smart diet that gives me a clear overview and direction on how to regulate my diet in the right way so that it provides me with all the necessary energy without the overthinking and crazy extreme diets that serve little purpose.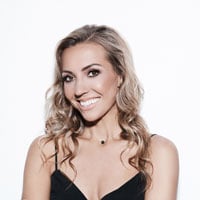 Kertu Jukkum
Client
I used SmartFOOD to prepare for a marathon to ensure a varied and balanced daily diet. It is especially important to me that SmartFOOD foods are free of preservatives and any flavor enhancers. There is no white sugar or salt. This is generally quite rare in today's food market in my opinion. I believe that although I made above-average choices in my diet before, the new experience with SmartFOOD took my daily diet to a new level.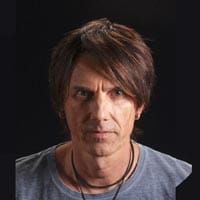 Hendrik Sal-Saller
Musician
I have been using SmartFOOD for a few months now and I am very pleased. Previously, I chose two cappuccinos over real food for breakfast, during the day my diet was relatively chaotic and for dinner I ate mega large quantities.
With SmartFOOD, the diet is set for you – 5 complete meals are delivered in the morning, that's breakfast, lunch, dinner and 2 snacks, meaning that every two to three hours you have something to eat. The good thing is that hunger can't even come to mind, and you don't have to think about when and where you can grab a bite.
Of course, it's amazing to know that I'm eating healthier and achieving a wholesome balance of my required daily nutritional intake, but one of the biggest benefits I truly feel is that I have way more energy  – I'm not tired by the evening and therefore I'm getting more out of my days.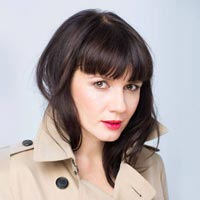 Heidy Purga
Politician
In addition to feeling super good, the menu prepared by SmartFOOD also gives you many innovative ideas on how to make your everyday meals more interesting and versatile. My eating habits previously were much more hectic in terms of meals and mealtimes themselves. At first, it even seemed as though SmartFOOD's personal menu was just too much because I wasn't used to eating so frequently.
Every person who knows themselves well enough will find their key favorites in this menu. Now, I'm definitely more knowledgeable through my experience with SmartFOOD's, and most importantly, I have a lot more exciting ideas for lunch and dinner. When I go shopping in a hurry, I always choose a variety of produce.
All in all, I felt really good as I had energy for the entire day and rarely experienced tiredness in the day while subscribing to SmartFOOD's.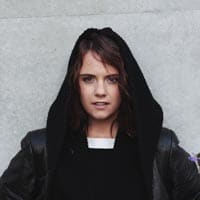 Piret Krumm
Actor
Until now, all forms of dieting had always completely stressed me out. This sort of stressing about my diet usually ended with me having to console myself with fries and champagne. As a result, and to my own surprise, I didn't lose any weight and instead, my waist kept expanding like a boa snake with a full stomach.
Before trying SmartFOOD, I never imagined that it would be possible to lose weight without being depressed and hungry all the time.
You can eat super fresh, high quality healthy food, 5 times a day, delivered right to your door- let's be honest, that sounds like an absolute dream! SmartFOOD is GOOD!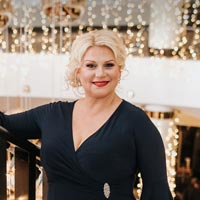 Karin Järvet
Consultant
My life was made a lot easier and more comfortable by SmartFOOD. I love cooking, but I often just don't have the time to prepare regular meals due to my busy work schedule. Having time to make regular healthy meals requires great willpower and good time management, leaving little room for error.
SmartFOOD is the perfect solution for such occasions  – every weekday morning, my personalized daily serving of fresh, tasty, and well-balanced food was delivered to my door and I was able to enjoy these meals while in the office, after working out, and even when I was in the café with a friend.
I will continue to order SmartFOOD food packages in the future because I value the extra time that is gifted to me with this lifestyle choice and also because I thoroughly enjoy the delicious dishes that their chefs prepare!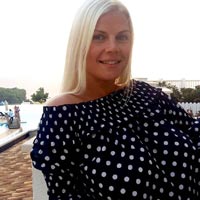 Kadri Laasmäe
On maternity leave
Before SmartFOOD, I believed that a healthy and balanced diet entailed limited choices and the constant feeling of hunger. SmartFOOD, however, was able to pleasantly surprise me in this regard and it opened my eyes to a new way of eating.
I also like the ultimate comfort that comes with the SmartFOOD service – your daily meals are beautifully packaged and delivered to your door every morning, and if there was no time to enjoy them at home, you could easily bring the food along on your daily adventures.
I also liked the fact that the following day's menu was sent to my email which made it nice to know what to expect for the next day… I was always very satisfied – my stomach was full, my mood was good, and my energy sustained throughout the whole day.